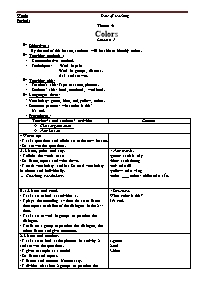 Colors
Lesson 3
 Objectives:
By the end of this lesson, students will be able to describe the color of things around me.
 Teaching methods:
- Communicative method.
- Techniques: + Work in pairs
 + Work in groups, discuss.
 + Ask and answer.
 Teaching aids:
- Teacher's aids: Tape cassette, posters.
- Students' aids: book, notebook, workbook.
 Languages focus:
- Vocabulary: flower, balloon, rock, leaf, butterfly.
- Sentence patterns: There's a blue balloon.
- There are two pink flowers.
 Procedures:
Teacher' s and students' activities Content
 Class organization.
 New lesson
* Warm up: Chatting
- T asks sts to talk freely about the old lesson.
- Sts talk with their friends.
- T listens and gives feedback if necessary.
A. Listen and point and say.
- T asks sts to look at the name listen, point and say them.
- Sts listen and repeat words by words.
- T play the record and ask sts repeat cho and ind.
- Asks sts copy down. *Vocabulary:
- flower: hoa
- balloon :bong bóng
- rock: đá
- leaf: lá
- butterfly: bươm bướm
Week: 	 	Date of teaching: 
Period: 
Theme 4:
Colors
Lesson 1
Objectives:
By the end of this lesson, students will be able to identify colors.
Teaching methods:
Communicative method.
Techniques: + Work in pairs 
 + Work in groups, discuss.
 + Ask and answer.
Teaching aids:
Teacher's aids: Tape cassette, pictures.
Students' aids: book, notebook, workbook.
Languages focus: 
Vocabulary: green, blue, red, yellow, colors.
Sentence patterns: what color is this?
It's red.
Procedures:
Teacher' s and students' activities
Content 
Class organization
New lesson
* Warm up:
T asks questions and elicits sts to the new lesson.
Sts answer the questions.
A. Listen, point and say.
- T elicits the words to sts 
Sts listen, repeat and write down.
T reads vocabulary and has Sts read vocabulary in chorus and individually.
→ Checking vocabulary.
* New words:
-green: xanh lá cây
-blue: xanh dương
-red: màu đỏ
-yellow: màu vàng
-color colors: nhiều màu sắc.
B. 1.Listen and read.
T asks sts to look at activities 1.
T plays the recording 1st time for sts to listen then repeat each line of the dialogue in the 2nd time.
T asks sts to work in groups to practice the dialogue.
T calls on a group to practice the dialogue, the others listen and give comment.
* Structure:
What color is this?
It's red.
2. Listen and number.
T asks sts to look at the pictures in activity 2 and answer the questions.
T gives example as a model
Sts listen and repeat.
T listens and corrects if necessary.
T divides class into 2 groups to practice the sentence patterns.
T corrects the mistakes.
T asks sts to practise with their partners.
Sts work in pairs.
1.green
2.red
3.blue
3. Practice the structure.
T guides sts how to practice activity 3.
 Sts work in pairs to practice and talk in front of class.
* Structure:
What color is this?
It's red.
C. Listen. Sing along.
T tells them that they are going listen to the song and sing along.
T plays the recording twice for sts to sing.
T gives feedback.
What color is this?
It's green.
D. Practice and tick the box. Practice. Ask and answer.
T guides sts how to do this task.
Sts do it individually.
Sts has sts show their answers on the board.
T gives feedback.
* Answer key:
What color is this?
It's red.
E. Play the "Guess the color" game
T introduce the way to play the game.
Sts play the game.
Student's answer.
* Consolidate the content of lesson
* Homework
- Learn new words by heart.
- Practise new strucrures.
- Prepare new lesson.
Experiences:
Week: 	 	Date of teaching: 
Period: 
Theme 4
Colors
Lesson 2
Objectives:
By the end of this lesson, students will be able to talk about what color I want.
Teaching methods:
Communicative method.
Techniques: + Work in pairs 
 + Work in groups, discuss.
 + Ask and answer.
Teaching aids:
Teacher's aids: Tape cassette, pictures.
Students' aids: book, notebook, workbook.
Languages focus: 
Vocabulary: pink, gray, black, brown, paint,paints.
Sentence patterns: What color do you want?
Brown , please.
 *Procedures:
Teacher' s and students' activities
Content 
Class organization
New lesson
* Warm up: Sing a song
T asks the class to sing the song.
Hello
Listen,point and say
Pre–teach vocabulary. 
T elicits the words to sts 
Sts listen, repeat and write down.
T reads vocabulary and has sts read vocabulary in chorus and individually.
→ Checking vocabulary.
T elecits the structures.
* New words:
- pink: màu hồng
-gray: màu xám
-black: màu đen
-brown: màu nâu
-paint: sơn
B. 
1.Listen and read
T asks sts to look at activities 1.
T plays the recording the 1st time for sts to listen then repeat each line of the dialogue in the 2nd time.
T asks sts to work in groups to practise the dialogue.
T calls on a group to practise the dialogue, the others listen and give comment.
* Structure:
What color do you want?
Brown, please!
2. Listen and circle.
T asks sts to look at the pictures in activity 2.
T gives example as a modal.
Sts listen and circle.
T listens and corrects if necessary.
T corrects the mistakes.
1.gray
2.black
3.brown.
3. Practice the structure.
T guides sts how to practise activity 3.
 Sts work in pairs to practise and talk in front of class.
The others listen and give comment.
*Structure:
What color do you want?
Brown, please!
C. Listen and sing along.
T tells them that they are going listen to the recording and read along the song
T plays the recording twice for sts to sing along
T replays the recording for sts sing along cho and ind.
What color do you want?
Pink, please!
D. Practice .Point, ask and answer.
T asks sts to write the letters.
Sts do it individually.
T asks sts to talk in front of class the others listen and give comment.
What color do you want?
Pink, please!
E. Play the "Read my lips" game.
T asks sts to observe the task, say your name and spell your name.
Sts do it in pairs.
-T asks sts practice in pair in front of the class.
T correct.
What color do you want?
Blue, please!
* Consolidate the content of lesson
* Homework
- Learn new words by heart.
- Practice new structures.
- Prepare new lesson.
Experiences:
Week: 	Date of teaching: 
Period: 
THEME 4
Colors 
LESSON 1: ( WORKBOOK)
Objectives:
By the end of this lesson, students will be able to 
Listen and identify specific information.
Read and identify specific information.
Read and identify general information.
Read, listen and understand a short story.
Teaching methods:
Communicative method.
Techniques: + Work in pairs 
 + Work in groups, discuss.
 + Ask and answer.
Teaching aids:
Teacher's aids: Tape cassette, pictures, poster, word cards.
Students' aids: book, notebook, workbook.
Languages focus: 
Phonics: Review the old lesson. 
Sentence patterns: review
Procedures:
Teacher' s and students' activities
Content 
Class organization.
New lesson
* Warm up: Chatting
 T asks sts to talk freely about the old lesson.
 Sts talk with their friends.
 T listens and gives feedback if necessary.
A. Circle the odd one out and write.
T asks sts to obsreve the pictures and predict the answers. 
T asks sts read these commands in a class.
T asks sts read and circle ind .
T asks sts to report the answers.
Sts read again and repeat if have time..
* Answers:
1. blue
2. yellow
3. colors
4. green
5. red
B. Look at the pictures and complete the words.
T asks sts to look at the pictures a few minutes.
T checks comprehension and elicit information in the pictures and gives feedback.
T asks sts do ind 
Sts swap and check their answers with their friends.
T corrects.
* Answers:
1.red
2.blue
3.green
4.yellow
C. Complete the words and draw lines.
T asks sts to observe the task, read and tick or cross 
Sts do it in pairs.
T gets sts to swap and check their answers before checking as a class.
T corrects.
T divides class into 2 groups and gets them to read aloud.
* Answers:
2.What color is this?
It's green.
3.What color is this?
It's yellow.
4.What color is this?
It's blue.
D.Look, trace, and write.
T asks sts to look ,trace and write. 
Sts do it ind.
T gets sts to swap and check their answers before checking as a class.
T corrects.
T divides class into 2 groups and gets them to read aloud.
2.What color is this?
It's yellow.
3. What color is this?
It's red.
Homework
- Learn new words by heart.
- Prepare new lesson.
Experiences:
Week: 	Date of teaching: 
Period: 
THEME 4
Colors 
LESSON 2: ( WORKBOOK)
Objectives:
By the end of this lesson, students will be able to 
Listen and identify specific information.
Read and identify specific information.
Read and identify general information.
Teaching methods:
Communicative method.
Techniques: + Work in pairs 
 + Work in groups, discuss.
 + Ask and answer.
Teaching aids:
Teacher's aids: Tape cassette, pictures, poster, word cards.
Students' aids: book, notebook, workbook.
Languages focus: 
Phonics: Review the old lesson. 
Sentence patterns: review
Procedures:
Teacher' s and students' activities
Content 
Class organization.
New lesson
* Warm up: Chatting
 T asks sts to talk freely about the old lesson.
 Sts talk with their friends.
 T listens and gives feedback if necessary.
A. Circle the odd one out and write.
T asks sts to read these letters and predict the answers. 
T asks sts read and order ind .
T asks sts to report the answers.
Sts read again and repeat if have time..
* Answers:
1. gray
2. pink
3. paints
4. brown
5. black
Look at the pictures and complete the words.
T asks sts to look at these letters a few minutes.
T checks comprehension and elicit information in the alphabet and gives feedback.
T asks sts do ind 
Sts swap and check their answers with their friends.
T corrects.
* Answers:
1. black.
2.brown
3. gray
4. pink
C. Complete the words and draw lines.
T asks sts to observe the task, look and write.
Sts do it in pairs.
T gets sts to swap and check their answers before checking as a class.
T corrects.
T divides class into 2 groups and gets them to read aloud.
* Answers:
1. It's a gray book.
2. It's a pink board.
3. It's a black board.
4. It's a brown bag.
D. Look and write.
T asks sts to observe the task, look and write.
Sts do it in pairs.
T gets sts to swap and check their answers before checking as a class.
T corrects.
T divides class into 2 groups and gets them to read aloud.
* Answers:
2. What color do you want?
Pink, please!
3. What color do you want?
Gray, please!
Homework
- Learn new words by heart.
- Prepare new lesson.
Experiences:
Week: 	Date of teaching: 
Period: 	 
THEME 4
 Colors 
Lesson 3
Objectives:
By the end of this lesson, students will be able to describe the color of things around me.
Teaching methods:
Communicative method.
Techniques: + Work in pairs 
 + Work in groups, discuss.
 + Ask and answer.
Teaching aids:
Teacher's aids: Tape cassette, posters.
Students' aids: book, notebook, workbook.
Languages focus: 
Vocabulary: flower, balloon, rock, leaf, butterfly.
Sentence patterns: There's a blue balloon.
There are two pink flowers.
Pro ... ntent 
Class organization.
New lesson
* Warm up: Chatting
 T asks sts to talk freely about the old lesson.
 Sts talk with their friends.
 T listens and gives feedback if necessary.
A. Trace and draw lines.
T asks sts to read these letters and predict the answers. 
T asks sts look at and complete these words 
T asks sts to report the answers.
Sts read again and repeat if have time..
* Answers:
1. c
2. d
3. b
4. a
B. Look and read. Tick the correct words.
T asks sts to read these sentences in a few minutes.
T checks comprehension and elicit information and gives feedback.
T asks sts do ind.
Sts swap and check their answers with their friends.
T corrects.
* Answers:
2. orange
3. white
C. Look, read and write.
T asks sts to observe the task, look and write.
Sts do it in pairs.
T gets sts to swap and check their answers before checking as a class.
T corrects.
T divides class into 2 groups and gets them to read aloud.
* Answers:
1. What's your favorite color, Tom?
I like light blue.
2. What's your favorite color, Sue?
I like white.
3. What's your favorite color, Kim?
I like purple.
4. What's your favorite color, Nick?
I like dark blue.
5. What's your favorite color, Mai?
I like orange.
D.What about you? Trace and write.
-T asks sts read the task.
-T explains the way to do.
-T asks sts do ind.
-T gives feedback.
What's your favorite color?
I like 
Homework
- Learn new words by heart.
- Prepare new lesson.
Experiences:
Week: 	Date of teaching: 
Period: 
THEME 3
Family 
Lesson 5
Objectives:
By the end of this lesson, students will be able to can talk and write about my favorite pets.
Teaching methods:
Communicative method.
Techniques: + Work in pairs 
 + Work in groups, discuss.
 + Ask and answer.
Teaching aids:
Teacher's aids: Tape cassette, posters.
Students' aids: book, notebook, workbook.
Languages focus: 
Vocabulary: dog, cat, rabbit, cute, friendly, soft.
Sentence patterns: Rabbits are my favorite pets. Rabbits are cute.
Procedures:
Teacher' s and students' activities
Content 
Class organization.
New lesson
* Warm up: Chatting
 T asks sts to talk freely about the old lesson.
 Sts talk with their friends.
 T listens and gives feedback if necessary.
A. New words.Listen and point and say.
T asks sts to look at the name listen, point and say them.
Sts listen and repeat words by words.
T play the record and ask sts repeat cho and ind.
Asks sts copy down.
*Vocabulary:
-dog: con chó
-cat: con mèo
-rabbit: con thỏ
-cute: dễ thương
-friendly: thân thiện
-soft: mềm
B Listening
1.Listen and circle.
T asks sts to listen and find these charaters in the story.
T tells them that they are going to listen.
T plays the recording twice for sts to repeat.
T replays the recording for sts to find the name.
Sts say aloud these sentences individually.
Sts give comment.
Answer:
2.friendly
3.quite
4.dogs
Useful language:
Dogs are my favorite pets.
Dogs are friendly.
Reading. Read and circle"True" or "False".
T has sts look at activity 3 and read the available sentences.
Sts say these sentences loudly in chorus.
T helps sts understand how to do the task.
T asks sts to circle the correct answer.
Sts do the task and compare the answers with their partners.
T corrects.
2. True
3.False
4.True
Speaking. Practice. Point, say.
Sts look at the task and listen to the teacher.
T guides sts the way to do the task.
T asks sts to work in pair.
T corrects.
Sts practise these sentences
Cats are my favorite pets.
Cats are soft and friendly.
Writing. Write your answer down.
-T introduces a the model of label.
T has sts look at introduce the way to do the task in the book.
T asks sts to fill in in front of class.
T controls sts and offers help.
1. Dogs are my favorite pets.
2. Cats are my favorite pets.
3. Rabbits are my favorite pets.
4. Dogs, cats, rabbits are my favorite pets.
* Consolidate the content of lesson
* Homework
- Learn new words by heart.
- Practise new strucrures.
- Prepare new lesson.
Experiences:
Week: 13 	Date of teaching: 
Period: 51-52
THEME 3
Family 
Lesson 6
Objectives:
By the end of this lesson, students will be able to can review from lesson 1 to lesson 6
Teaching methods:
Communicative method.
Techniques: + Work in pairs 
 + Work in groups, discuss.
 + Ask and answer.
Teaching aids:
Teacher's aids: Tape cassette, posters.
Students' aids: book, notebook, workbook.
Languages focus: 
Vocabulary: review
Phonics: 
Sentence patterns: Review
Procedures:
Teacher' s and students' activities
Content 
Class organization.
New lesson
* Warm up: Chatting
 T asks sts to talk freely about the old lesson.
 Sts talk with their friends.
 T listens and gives feedback if necessary.
 Listening
1.Listen and draw lines.
T tells them that they are going to listen.
T plays the recording twice for sts to repeat.
T replays the recording for sts to listen and draw a lines.
Sts say aloud these sentences individually.
Sts give comment.
Answer:
1. Tom
2. Paul
3. Fred
4. Sally
Reading and writing. Look at the pictures.Look at the letters. Write the words.
T has sts look at activity 2 and read the available
Sts say these sentences loudly in chorus.
T helps sts understand how to do the task.
T asks sts to read and tick.
Sts do the task and compare the answers with their partners.
T corrects.
1. sister
2. mother
3. cousin
Song.
Sts look at the task and listen to the teacher.
T guides sts the way to do the task.
T asks sts to listen and sing along
T corrects.
Sts practise these sentences
Page 102
Game. Play the board game.
-T introduces a the way to play the game
T has sts listen and play the game in 2 teams.
T controls sts and offers help.
Who's he? He's my grandfather.
What's his name? His name's Ben.
Is she old? Yes, she is.
Who's the young boy? He's my brother.
* Consolidate the content of lesson
* Homework
- Learn new words by heart.
- Practise new strucrures.
- Prepare new lesson.
Experiences:
Week: 14 	Date of teaching: 
Period: 53
THEME 3
Family
LESSON 5: ( WORKBOOK)
Objectives:
By the end of this lesson, students will be able to 
Listen and identify specific information.
Read and identify specific information.
Read and identify general information.
Read, listen and understand a short story.
Teaching methods:
Communicative method.
Techniques: + Work in pairs 
 + Work in groups, discuss.
 + Ask and answer.
Teaching aids:
Teacher's aids: Tape cassette, pictures, poster, word cards.
Students' aids: book, notebook, workbook.
Languages focus: 
Phonics: Review the old lesson. 
Sentence patterns: review
Procedures:
Teacher' s and students' activities
Content 
Class organization.
New lesson
* Warm up: Chatting
 T asks sts to talk freely about the old lesson.
 Sts talk with their friends.
 T listens and gives feedback if necessary.
A. Look at the pictures .Complete the words.
T asks sts to obsreve the pictures and predict the answers. 
T asks sts read these commands in a class.
T asks sts read and circle ind .
T asks sts to report the answers.
Sts read again and repeat if have time..
* Answers:
1.dog
2.cat
3.rabbit
4.soft
5.cute
6.friendly
B. Look and read. Tick v the correct answers.
T asks sts to look at the pictures a few minutes.
T checks comprehension and elicit information in the pictures and gives feedback.
T asks sts do ind 
Sts swap and check their answers with their friends.
T corrects.
* Answers:
1. friendly
2. cat
3. cute
4. dog
C. Read and circle True or False.
T asks sts to observe the task, read and tick or cross 
Sts do it in pairs.
T gets sts to swap and check their answers before checking as a class.
T corrects.
T divides class into 2 groups and gets them to read aloud.
* Answers:
1.True
2.False
3.True
4.False
D. Look and write.
T asks sts to observe the task, read and tick or cross 
Sts do it in pairs.
T gets sts to swap and check their answers before checking as a class.
T corrects.
T divides class into 2 groups and gets them to read aloud.
* Answers:
2. Dogs are my favorite pets.
Dogs are friendly and soft.
Homework
- Learn new words by heart.
- Prepare new lesson.
Experiences:
Week: 14 	Date of teaching: 
Period: 54
THEME 3
Family 
LESSON 6: ( WORKBOOK)
Objectives:
By the end of this lesson, students will be able to 
Listen and identify specific information.
Read and identify specific information.
Read and identify general information.
Teaching methods:
Communicative method.
Techniques: + Work in pairs 
 + Work in groups, discuss.
 + Ask and answer.
Teaching aids:
Teacher's aids: Tape cassette, pictures, poster, word cards.
Students' aids: book, notebook, workbook.
Languages focus: 
Phonics: Review the old lesson. 
Sentence patterns: review
Procedures:
Teacher' s and students' activities
Content 
Class organization.
New lesson
* Warm up: Chatting
 T asks sts to talk freely about the old lesson.
 Sts talk with their friends.
 T listens and gives feedback if necessary.
A. Look at the pictures. Look at the letters .Write the words.
T asks sts to read these letters and predict the answers. 
T asks sts look at and complete these words 
T asks sts to report the answers.
Sts read again and repeat if have time..
* Answers:
1.sister
2. uncle
3. man
4. grandfather.
5. woman
B. Look and read . Put a tick or a cross in the box.
T asks sts to read these sentences in a few minutes.
T checks comprehension and elicit information and gives feedback.
T asks sts do ind 
Sts swap and check their answers with their friends.
T corrects.
* Answers:
1.x
2.v
3.x
4.v
C.Look at the pictures and read the questions. Write the answers.
T asks sts to read these sentences in a few minutes.
T checks comprehension and elicit information and gives feedback.
T asks sts do ind 
Sts swap and check their answers with their friends.
T corrects.
2. Alfie: Is your sister short?
Tom: No, she isn't. She's tall.
3. Alfie: Who's the thin woman?
Tom: She's my mother.
Homework
- Learn new words by heart.
- Prepare new lesson.
Experiences: