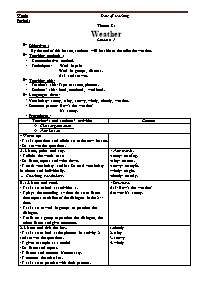  Objectives:
By the end of this lesson, students will be able to describe the weather.
 Teaching methods:
- Communicative method.
- Techniques: + Work in pairs
 + Work in groups, discuss.
 + Ask and answer.
 Teaching aids:
- Teacher's aids: Tape cassette, pictures.
- Students' aids: book, notebook, workbook.
 Languages focus:
- Vocabulary: sunny, rainy, snowy, windy, cloudy, weather.
- Sentence pattern: How's the weather?
 It's sunny.
- Procedures:
Teacher' s and students' activities Content
 Class organization
 New lesson
* Warm up:
- T asks questions and elicits sts to the new lesson.
- Sts answer the questions.
A. Listen, point and say.
- T elicits the words to sts
- Sts listen, repeat and write down.
- T reads vocabulary and has Sts read vocabulary in chorus and individually.
→ Checking vocabulary. * New words:
-sunny: có nắng.
-rainy: có mưa.
-snowy: có tuyết.
-windy: có gió.
-cloudy: có mây.
Week: 	 	Date of teaching: 
Period: 
Theme 8 :
Weather
Lesson 1
Objectives:
By the end of this lesson, students will be able to describe the weather.
Teaching methods:
Communicative method.
Techniques: + Work in pairs 
 + Work in groups, discuss.
 + Ask and answer.
Teaching aids:
Teacher's aids: Tape cassette, pictures.
Students' aids: book, notebook, workbook.
Languages focus: 
Vocabulary: sunny, rainy, snowy, windy, cloudy, weather.
Sentence pattern: How's the weather?
 It's sunny.
Procedures:
Teacher' s and students' activities
Content 
Class organization
New lesson
* Warm up:
T asks questions and elicits sts to the new lesson.
Sts answer the questions.
A. Listen, point and say.
- T elicits the words to sts 
Sts listen, repeat and write down.
T reads vocabulary and has Sts read vocabulary in chorus and individually.
→ Checking vocabulary.
* New words:
-sunny: có nắng.
-rainy: có mưa.
-snowy: có tuyết.
-windy: có gió.
-cloudy: có mây.
B. 1.Listen and read.
T asks sts to look at activities 1.
T plays the recording 1st time for sts to listen then repeat each line of the dialogue in the 2nd time.
T asks sts to work in groups to practice the dialogue.
T calls on a group to practice the dialogue, the others listen and give comment.
* Structure:
Ask: How's the weather?
Answer: It's sunny.
2. Listen and tick the box.
T asks sts to look at the pictures in activity 2 and answer the questions.
T gives example as a model
Sts listen and repeat.
T listens and corrects if necessary.
T corrects the mistakes.
T asks sts to practise with their partners.
Sts work in pairs.
1.cloudy
2. rainy
3. snowy
4. windy
3. Practice the structure.
T guides sts how to practice activity 3.
 Sts work in pairs to practice and talk in front of class.
* Structure:
 Ask: How's the weather?
 Answer: It's sunny.
C. Listen. Sing along.
T tells them that they are going listen to the song and sing along.
T plays the recording twice for sts to sing.
T gives feedback.
 How's the weather?
 It's sunny.
D. Listen and circle. Practice. Point, ask and answer.
T guides sts how to do this task.
Sts do it individually.
Sts has sts show their answers on the board.
T gives feedback.
* Answer key:
 How's the weather?
 It's sunny.
1. sunny
2. rainy
3. cloudy
4. rainy
E. Play the "Board race" game.
T introduce the way to play the game.
Sts play the game.
How's the weather?
 It's sunny.
* Consolidate the content of lesson
* Homework
- Learn new words by heart.
- Practise new strucrures.
- Prepare new lesson.
Experiences:
Week: 	 	Date of teaching: 
Period: 
Theme 8
Weather
Lesson 2
Objectives:
By the end of this lesson, students will be able to ask about the weather.
Talk about possession.
Teaching methods:
Communicative method.
Techniques: + Work in pairs 
 + Work in groups, discuss.
 + Ask and answer.
Teaching aids:
Teacher's aids: Tape cassette, pictures.
Students' aids: book, notebook, workbook.
Languages focus: 
Vocabulary: storm, thunder, lightning, rain, rainbow.
Sentence patterns: Can you see the lightning? Yes, you can.
Can you hear the thunder? Yes, you can.
 *Procedures:
Teacher' s and students' activities
Content 
Class organization
New lesson
* Warm up: Sing a song
T asks the class to sing the song.
Hello
 A.Listen,point and say
Pre–teach vocabulary. 
T elicits the words to sts 
Sts listen, repeat and write down.
T reads vocabulary and has sts read vocabulary in chorus and individually.
→ Checking vocabulary.
T elecits the structures.
* New words:
- storm: bão.
-thunder: sấm sét.
-lightning: sét đánh.
-rain: mưa.
-rainbow: cầu vòng.
B. 
1.Listen and read
T asks sts to look at activities 1.
T plays the recording the 1st time for sts to listen then repeat each line of the dialogue in the 2nd time.
T asks sts to work in groups to practise the dialogue.
T calls on a group to practise the dialogue, the others listen and give comment.
*Structure:
 Can you see the lightning? Yes, you can.
Can you hear the thunder? Yes, you can.
2. Listen and circle.
T asks sts to look at the pictures in activity 2.
T gives example as a modal.
Sts listen and circle.
T listens and corrects if necessary.
T corrects the mistakes.
1.rain
2.lightning
3.thunder
4.rainbow
3. Practice the structure.
T guides sts how to practise activity 3.
 Sts work in pairs to practise and talk in front of class.
The others listen and give comment.
*Structure:
Can you see the lightning? Yes, you can.
Can you hear the thunder? Yes, you can.
C. Listen and sing along.
T tells them that they are going listen to the recording and read along the song
T plays the recording twice for sts to sing along
T replays the recording for sts sing along cho and ind.
Can you hear the storm?
Yes, you can.
D. Listen and tick the box. Practice. Ask and answer.
T asks sts to write the letters.
Sts do it individually.
T asks sts to talk in front of class the others listen and give comment.
Can you see the rain?
Yes, I can.
1.see/rain
2.see/rainbow
3.see/lightning
4.hear/thunder
E. Play the "Tic, tac, toe" game.
T asks sts to observe the task, say your name and spell your name.
Sts do it in pairs.
-T asks sts practice in pair in front of the class.
T correct.
Where's the school?
It's on Oak Street.
* Consolidate the content of lesson
* Homework
- Learn new words by heart.
- Practice new structures.
- Prepare new lesson.
Experiences:
Week: 	Date of teaching: 
Period: 
THEME 8
Weather
LESSON 1: (WORKBOOK)
Objectives:
By the end of this lesson, students will be able to 
Listen and identify specific information.
Read and identify specific information.
Read and identify general information.
Read, listen and understand a short story.
Teaching methods:
Communicative method.
Techniques: + Work in pairs 
 + Work in groups, discuss.
 + Ask and answer.
Teaching aids:
Teacher's aids: Tape cassette, pictures, poster, word cards.
Students' aids: book, notebook, workbook.
Languages focus: 
Phonics: Review the old lesson. 
Sentence patterns: review
Procedures:
Teacher' s and students' activities
Content 
Class organization.
New lesson
* Warm up: Chatting
 T asks sts to talk freely about the old lesson.
 Sts talk with their friends.
 T listens and gives feedback if necessary.
A. Complete the words.
T asks sts to obsreve the pictures and predict the answers. 
T asks sts read these commands in a class.
T asks sts read and circle ind .
T asks sts to report the answers.
Sts read again and repeat if have time..
* Answers:
1.windy
2.snowy
3.rainy
4.sunny
5.cloudy
B. Read and draw the lines.
T asks sts to look at the pictures a few minutes.
T checks comprehension and elicit information in the pictures and gives feedback.
T asks sts do ind 
Sts swap and check their answers with their friends.
T corrects.
* Answers:
1. It's windy
2. It's snowy
3.It's rainy
4. It's sunny
5.It's cloudy
C. Look, read, and put a tick.
T asks sts to observe the task, read and tick or cross 
Sts do it in pairs.
T gets sts to swap and check their answers before checking as a class.
T corrects.
T divides class into 2 groups and gets them to read aloud.
* Answers:
1. It's cloudy
2. It's snowy
3. It's sunny.
D. Look and write.
T asks sts to observe the task, read and tick or cross 
Sts do it in pairs.
T gets sts to swap and check their answers before checking as a class.
T corrects.
T divides class into 2 groups and gets them to read aloud.
* Answers:
2. How's the weather?
It's windy.
3. How's the weathe?
It's rainy.
Homework
- Learn new words by heart.
- Prepare new lesson.
Experiences:
Week: 	Date of teaching: 
Period: 
THEME 8
Weather
LESSON 2: ( WORKBOOK)
Objectives:
By the end of this lesson, students will be able to 
Listen and identify specific information.
Read and identify specific information.
Read and identify general information.
Teaching methods:
Communicative method.
Techniques: + Work in pairs 
 + Work in groups, discuss.
 + Ask and answer.
Teaching aids:
Teacher's aids: Tape cassette, pictures, poster, word cards.
Students' aids: book, notebook, workbook.
Languages focus: 
Phonics: Review the old lesson. 
Sentence patterns: review
Procedures:
Teacher' s and students' activities
Content 
Class organization.
New lesson
* Warm up: Chatting
 T asks sts to talk freely about the old lesson.
 Sts talk with their friends.
 T listens and gives feedback if necessary.
A.Circle the odd one out and write.
T asks sts to read these letters and predict the answers. 
T asks sts read and order ind .
T asks sts to report the answers.
Sts read again and repeat if have time..
* Answers:
1. lightning
2. rainbow
3. thunder
3. rainy
4. rain
B.Complete the words.
T asks sts to look at these letters a few minutes.
T checks comprehension and elicit information in the alphabet and gives feedback.
T asks sts do ind 
Sts swap and check their answers with their friends.
T corrects.
* Answers:
2. Can you see the rainbow?
Yes, I can.
3. Can you see the thunder?
Yes, I can.
C. Look at the pictures. Look at the letters. Write the words.
T asks sts to observe the task, look and write.
Sts do it in pairs.
T gets sts to swap and check their answers before checking as a class.
T corrects.
T divides class into 2 groups and gets them to read aloud.
* Answers:
2. rain
3. lightning.
D. Look and write.
T asks sts to observe the task, look and write.
Sts do it in pairs.
T gets sts to swap and check their answers before checking as a class.
T corrects.
T divides class into 2 groups and gets them to read aloud.
2. Can you see the rain?
Yes, I can.
3. Can you hear the thunder?
Yes, I can.
Homework
- Learn new words by heart.
- Prepare new lesson.
Experiences:
 Week: 	Date of teaching:
 Period: 	 
THEME 8
Weather
Lesson 3
Objectives:
By the end of this lesson, students will be able to ask and answer about how people feel.
Teaching methods:
Communicative method.
Techniques: + Work in pairs 
 + Work in groups, discuss.
 + Ask and answer.
Teaching aids:
Teac ... s: Review the old lesson. 
Sentence patterns: review
Procedures:
Teacher' s and students' activities
Content 
Class organization.
New lesson
* Warm up: Chatting
 T asks sts to talk freely about the old lesson.
 Sts talk with their friends.
 T listens and gives feedback if necessary.
A. Circle the odd one out and write.
T asks sts to read these letters and predict the answers. 
T asks sts look at and complete these words 
T asks sts to report the answers.
Sts read again and repeat if have time.
* Answers:
1. sledding
2. snowball
3. skiing
4. snowman
5. swimming
B. Read and draw lines.
T asks sts to read these sentences in a few minutes.
T checks comprehension and elicit information and gives feedback.
T asks sts do ind 
Sts swap and check their answers with their friends.
T corrects.
* Answers:
 2. make a snowman
3. go skiing
C. Look and read. Tick the correct answers.
T asks sts to observe the task, look and write.
Sts do it in pairs.
T gets sts to swap and check their answers before checking as a class.
T corrects.
T divides class into 2 groups and gets them to read aloud.
* Answers:
2. go sledding
3.make a snowman
Look and write.
T asks sts to observe the task, look and write.
Sts do it in pairs.
T gets sts to swap and check their answers before checking as a class.
T corrects.
T divides class into 2 groups and gets them to read aloud.
* Answers:
2. Can we go swimming?
No, we can't.
3. Can we make a snowman?
 Yes, we can.
Homework
- Learn new words by heart.
- Prepare new lesson.
Experiences:
Week: 	Date of teaching: 
Period: 
THEME 8
Weather
 Lesson 5
Objectives:
By the end of this lesson, students will be able to growing rice.
Teaching methods:
Communicative method.
Techniques: + Work in pairs 
 + Work in groups, discuss.
 + Ask and answer.
Teaching aids:
Teacher's aids: Tape cassette, posters.
Students' aids: book, notebook, workbook.
Languages focus: 
Vocabulary: plant, seed, sunlight, grow, soil.
Sentence patterns: What does a seed need to grow?
A seed needs soil to grow.
Procedures:
Teacher' s and students' activities
Content 
Class organization.
New lesson
* Warm up: Chatting
 T asks sts to talk freely about the old lesson.
 Sts talk with their friends.
 T listens and gives feedback if necessary.
A. New words.Listen and point and say.
T asks sts to look at the name listen, point and say them.
Sts listen and repeat words by words.
T play the record and ask sts repeat cho and ind.
Asks sts copy down.
*Vocabulary:
-plant: cây
-seed: hạt
-sunlight: ánh sáng mặt trời
-grow: trồng
-soil: đất
B Listening
1.Listen and number.
T asks sts to listen and find these charaters in the story.
T tells them that they are going to listen.
T plays the recording twice for sts to repeat.
T replays the recording for sts to find the name.
Sts say aloud these sentences individually.
Sts give comment.
Answer:
1.a
2.c
3.d
4.b
2.Useful language
T asks sts to look at the name listen, point and say them.
Sts listen and repeat the useful language.
T play the record and ask sts repeat cho and ind.
Asks sts copy down.
Useful language
What does a seed need to grow?
A seed needs soil to grow.
Reading. Read and circle "True" or "False".
T has sts look at activity 3 and read the available sentences.
Sts say these sentences loudly in chorus.
T helps sts understand how to do the task.
T asks sts to circle the correct answer.
Sts do the task and compare the answers with their partners.
T corrects.
1.True
2.True
3.False
4.False
Speaking. Look at the pictures. Talk about what a seed and a plant nee to grow.
Sts look at the task and listen to the teacher.
T guides sts the way to do the task.
T asks sts to work in pair.
T corrects.
Sts practise these sentences.
What does a seed need to grow?
A seed needs soil to grow.
Writing. Write about plants
-T introduces a the model of label.
T has sts look at introduce the way to do the task in the book.
T asks sts to fill in in front of class.
T controls sts and offers help.
1.What does a seed need to grow?
A seed needs soil to grow.
 2.What does a plant need to grow?
A plant needs water and sunlight tp grow.
* Consolidate the content of lesson
* Homework
- Learn new words by heart.
- Practise new strucrures.
- Prepare new lesson.
Experiences:
Week: 	Date of teaching: 
Period: 
THEME 8
Weather
Lesson 6
Objectives:
By the end of this lesson, students will be able to can review from lesson 1 to lesson 6
Teaching methods:
Communicative method.
Techniques: + Work in pairs 
 + Work in groups, discuss.
 + Ask and answer.
Teaching aids:
Teacher's aids: Tape cassette, posters.
Students' aids: book, notebook, workbook.
Languages focus: 
Vocabulary: review
Phonics: 
Sentence patterns: Review
Procedures:
Teacher' s and students' activities
Content 
Class organization.
New lesson
* Warm up: Chatting
 T asks sts to talk freely about the old lesson.
 Sts talk with their friends.
 T listens and gives feedback if necessary.
 Listening
Listen and tick the box.
T tells them that they are going to listen.
T plays the recording twice for sts to repeat.
T replays the recording for sts to listen and draw a lines.
Sts say aloud these sentences individually.
Sts give comment.
Answer:
1.cloudy
2.cool
3.lightning
4.cold
Reading and writing. Look and read. Write Yes or No. 
T has sts look at activity 2 and read the available
Sts say these sentences loudly in chorus.
T helps sts understand how to do the task.
T asks sts to read and tick.
Sts do the task and compare the answers with their partners.
T corrects.
1.Yes
2.No
3.Yes
4.Yes
Song.
Sts look at the task and listen to the teacher.
T guides sts the way to do the task.
T asks sts to listen and sing along
T corrects.
Sts practise these sentences
Page 103
Game. Play the "connect three" game.
-T introduces a the way to play the game
T has sts listen and play the game in 2 teams.
T controls sts and offers help.
Ex:
How's the weather?
It's sunny
* Consolidate the content of lesson
* Homework
- Learn new words by heart.
- Practise new strucrures.
- Prepare new lesson.
Experiences:
Week: 	Date of teaching: 
Period: 
THEME 8
Weather
LESSON 5: (WORKBOOK)
Objectives:
By the end of this lesson, students will be able to 
Listen and identify specific information.
Read and identify specific information.
Read and identify general information.
Read, listen and understand a short story.
Teaching methods:
Communicative method.
Techniques: + Work in pairs 
 + Work in groups, discuss.
 + Ask and answer.
Teaching aids:
Teacher's aids: Tape cassette, pictures, poster, word cards.
Students' aids: book, notebook, workbook.
Languages focus: 
Phonics: Review the old lesson. 
Sentence patterns: review
Procedures:
Teacher' s and students' activities
Content 
Class organization.
New lesson
* Warm up: Chatting
 T asks sts to talk freely about the old lesson.
Sts talk with their friends.
T listens and gives feedback if necessary.
A. Complete the words.
T asks sts to obsreve the pictures and predict the answers. 
T asks sts read these commands in a class.
T asks sts read and circle ind .
T asks sts to report the answers.
Sts read again and repeat if have time..
* Answers:
1. plant
2. seed
3. soil
4. grow
5.sunlight
B. Look and write.
T asks sts to look at the pictures a few minutes.
T checks comprehension and elicit information in the pictures and gives feedback.
T asks sts do ind 
Sts swap and check their answers with their friends.
T corrects.
* Answers:
2. seed
3. plant
4. soil
5. grow
C. Read this. Choose a word from the box. Write the correct word next to numbers(1-5). There is one example.
T asks sts to observe the task, read and tick or cross 
Sts do it in pairs.
T gets sts to swap and check their answers before checking as a class.
T corrects.
T divides class into 2 groups and gets them to read aloud.
* Answers:
2. soil
3. sunlight
4. plants
5. green
D. Look and write.
T asks sts to observe the task, read and tick or cross 
Sts do it in pairs.
T gets sts to swap and check their answers before checking as a class.
T corrects.
T divides class into 2 groups and gets them to read aloud.
* Answers:
2. What does a plant need to grow?
A plant needs sunlight to grow.
3.What does a plant need to grow?
A plant needs water to grow.
Homework
- Learn new words by heart.
- Prepare new lesson.
Experiences:
Week: 	Date of teaching: 
Period: 
THEME 8
Weather
LESSON 6: ( WORKBOOK)
Objectives:
By the end of this lesson, students will be able to 
Listen and identify specific information.
Read and identify specific information.
Read and identify general information.
Teaching methods:
Communicative method.
Techniques: + Work in pairs 
 + Work in groups, discuss.
 + Ask and answer.
Teaching aids:
Teacher's aids: Tape cassette, pictures, poster, word cards.
Students' aids: book, notebook, workbook.
Languages focus: 
Phonics: Review the old lesson. 
Sentence patterns: review
Procedures:
Teacher' s and students' activities
Content 
Class organization.
New lesson
* Warm up: Chatting
 T asks sts to talk freely about the old lesson.
 Sts talk with their friends.
 T listens and gives feedback if necessary.
A. Look and read. Tick the correct sentences.
T asks sts to read these letters and predict the answers. 
T asks sts look at and complete these words 
T asks sts to report the answers.
Sts read again and repeat if have time..
* Answers:
1. Yes, I can
2. Yes, I can.
3. No, I'm not.
4. it's sunny.
B. Look and read. Complete the questions. There is one example.
T asks sts to read these sentences in a few minutes.
T checks comprehension and elicit information and gives feedback.
T asks sts do ind 
Sts swap and check their answers with their friends.
T corrects.
* Answers:
1. Can you see the rainbow?
Yes, I can.
2.Are you warm?
Yes, I am.
3.Can we make a snowman?
Yes, we can.
4.How's the weather?
It's rainy.
Homework
- Learn new words by heart.
- Prepare new lesson.
Experiences: