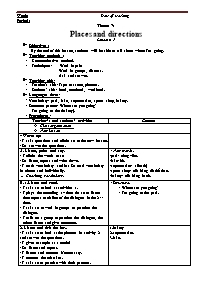  Objectives:
By the end of this lesson, students will be able to talk about where I'm going.
 Teaching methods:
- Communicative method.
- Techniques: + Work in pairs
 + Work in groups, discuss.
 + Ask and answer.
 Teaching aids:
- Teacher's aids: Tape cassette, pictures.
- Students' aids: book, notebook, workbook.
 Languages focus:
- Vocabulary: park, lake, supermarket, sports shop, bakery.
- Sentence pattern: Where are you going?
I'm going to the (bakery).
- Procedures:
Teacher' s and students' activities Content
 Class organization
 New lesson
* Warm up:
- T asks questions and elicits sts to the new lesson.
- Sts answer the questions.
A. Listen, point and say.
- T elicits the words to sts
- Sts listen, repeat and write down.
- T reads vocabulary and has Sts read vocabulary in chorus and individually.
→ Checking vocabulary. * New words:
-park: công viên.
-lake: hồ.
-supermarket: siêu thị
-sports shop: cửa hàng đồ thể thao.
-bakery: cửa hàng bánh.
Week: 	 	Date of teaching: 
Period: 
Theme 7:
Places and directions
Lesson 1
Objectives:
By the end of this lesson, students will be able to talk about where I'm going.
Teaching methods:
Communicative method.
Techniques: + Work in pairs 
 + Work in groups, discuss.
 + Ask and answer.
Teaching aids:
Teacher's aids: Tape cassette, pictures.
Students' aids: book, notebook, workbook.
Languages focus: 
Vocabulary: park, lake, supermarket, sports shop, bakery.
Sentence pattern: Where are you going?
I'm going to the (bakery).
Procedures:
Teacher' s and students' activities
Content 
Class organization
New lesson
* Warm up:
T asks questions and elicits sts to the new lesson.
Sts answer the questions.
A. Listen, point and say.
- T elicits the words to sts 
Sts listen, repeat and write down.
T reads vocabulary and has Sts read vocabulary in chorus and individually.
→ Checking vocabulary.
* New words:
-park: công viên.
-lake: hồ.
-supermarket: siêu thị
-sports shop: cửa hàng đồ thể thao.
-bakery: cửa hàng bánh.
B. 1.Listen and read.
T asks sts to look at activities 1.
T plays the recording 1st time for sts to listen then repeat each line of the dialogue in the 2nd time.
T asks sts to work in groups to practice the dialogue.
T calls on a group to practice the dialogue, the others listen and give comment.
* Structure:
Where are you going?
I'm going to the park.
2. Listen and tick the box.
T asks sts to look at the pictures in activity 2 and answer the questions.
T gives example as a model
Sts listen and repeat.
T listens and corrects if necessary.
T corrects the mistakes.
T asks sts to practise with their partners.
Sts work in pairs.
1.bakery
2.supermarket.
3.lake.
3. Practice the structure.
T guides sts how to practice activity 3.
 Sts work in pairs to practice and talk in front of class.
* Structure:
Where are you going?
I'm going to the park. 
C. Listen. Sing along.
T tells them that they are going listen to the song and sing along.
T plays the recording twice for sts to sing.
T gives feedback.
Where are you going?
I'm going to the park.
D.Practice. Point, ask and answer.
T guides sts how to do this task.
Sts do it individually.
Sts has sts show their answers on the board.
T gives feedback.
* Answer key:
Where are you going?
I'm going to the supermarket.
E. Play the "Chain" game.
T introduce the way to play the game.
Sts play the game.
Where are you going? I'm going to the park.
Where are you going?
I'm going to the bakery.
* Consolidate the content of lesson
* Homework
- Learn new words by heart.
- Practise new strucrures.
- Prepare new lesson.
Experiences:
Week: 	 	Date of teaching: 
Period: 
Theme 7
Places and directions
Lesson 2
Objectives:
By the end of this lesson, students will be able to ask about location.
Talk about possession.
Teaching methods:
Communicative method.
Techniques: + Work in pairs 
 + Work in groups, discuss.
 + Ask and answer.
Teaching aids:
Teacher's aids: Tape cassette, pictures.
Students' aids: book, notebook, workbook.
Languages focus: 
Vocabulary: ice cream shop, bookshop, playground, zoo, street.
Sentence patterns: Where's the ice cream shop?
 	It's on Water Street.
 *Procedures:
Teacher' s and students' activities
Content 
Class organization
New lesson
* Warm up: Sing a song
T asks the class to sing the song.
Hello
 A.Listen,point and say
Pre–teach vocabulary. 
T elicits the words to sts 
Sts listen, repeat and write down.
T reads vocabulary and has sts read vocabulary in chorus and individually.
→ Checking vocabulary.
T elecits the structures.
* New words:
- ice cream shop: cửa hàng kem.
- bookshop: cửa hàng sách.
- playground: sân chơi.
- zoo: sở thú. 
- street: con đường.
B. 
1.Listen and read
T asks sts to look at activities 1.
T plays the recording the 1st time for sts to listen then repeat each line of the dialogue in the 2nd time.
T asks sts to work in groups to practise the dialogue.
T calls on a group to practise the dialogue, the others listen and give comment.
*Structure:
Where's the ice cream shop?
It's on Water Street.
2. Listen and tick the box.
T asks sts to look at the pictures in activity 2.
T gives example as a modal.
Sts listen and circle.
T listens and corrects if necessary.
T corrects the mistakes.
1. Water Street.
2. Oak street.
3. King Street.
3. Practice the structure.
T guides sts how to practise activity 3.
 Sts work in pairs to practise and talk in front of class.
The others listen and give comment.
*Structure:
Where's the ice cream shop?
It's on Water Street.
C. Listen and sing along.
T tells them that they are going listen to the recording and read along the song
T plays the recording twice for sts to sing along
T replays the recording for sts sing along cho and ind.
Where's the ice cream shop?
It's on Water Street.
D. Practice. Ask and answer.
T asks sts to write the letters.
Sts do it individually.
T asks sts to talk in front of class the others listen and give comment.
1.Where's the school?
It's on Oak Street.
E. Play the "Memory" game.
T asks sts to observe the task, say your name and spell your name.
Sts do it in pairs.
-T asks sts practice in pair in front of the class.
T correct.
Where's the school?
It's on Oak Street.
* Consolidate the content of lesson
* Homework
- Learn new words by heart.
- Practice new structures.
- Prepare new lesson.
Experiences:
Week: 	Date of teaching: 
Period: 
THEME 7
Places and directions
LESSON 1: (WORKBOOK)
Objectives:
By the end of this lesson, students will be able to 
Listen and identify specific information.
Read and identify specific information.
Read and identify general information.
Read, listen and understand a short story.
Teaching methods:
Communicative method.
Techniques: + Work in pairs 
 + Work in groups, discuss.
 + Ask and answer.
Teaching aids:
Teacher's aids: Tape cassette, pictures, poster, word cards.
Students' aids: book, notebook, workbook.
Languages focus: 
Phonics: Review the old lesson. 
Sentence patterns: review
Procedures:
Teacher' s and students' activities
Content 
Class organization.
New lesson
* Warm up: Chatting
 T asks sts to talk freely about the old lesson.
 Sts talk with their friends.
 T listens and gives feedback if necessary.
A. Complete the words.
T asks sts to obsreve the pictures and predict the answers. 
T asks sts read these commands in a class.
T asks sts read and circle ind .
T asks sts to report the answers.
Sts read again and repeat if have time..
* Answers:
1.lake
2.park
3.sports shop
4.bakery
5.supermarket.
B. Look and write.
T asks sts to look at the pictures a few minutes.
T checks comprehension and elicit information in the pictures and gives feedback.
T asks sts do ind 
Sts swap and check their answers with their friends.
T corrects.
* Answers:
1. lake
2.sports shop
3.park
4.bakery
5.supermarket.
C. Look and read. Put a tick or a cross.
T asks sts to observe the task, read and tick or cross 
Sts do it in pairs.
T gets sts to swap and check their answers before checking as a class.
T corrects.
T divides class into 2 groups and gets them to read aloud.
* Answers:
2. v
3.x
D. Look and write.
T asks sts to observe the task, read and tick or cross 
Sts do it in pairs.
T gets sts to swap and check their answers before checking as a class.
T corrects.
T divides class into 2 groups and gets them to read aloud.
* Answers:
2.Where are you going?
I'm going to the park.
3.Where are you going?
I'm going to the bakery.
Homework
- Learn new words by heart.
- Prepare new lesson.
Experiences:
Week: 	Date of teaching: 
Period: 
THEME 7
Places and directions.
LESSON 2: ( WORKBOOK)
Objectives:
By the end of this lesson, students will be able to 
Listen and identify specific information.
Read and identify specific information.
Read and identify general information.
Teaching methods:
Communicative method.
Techniques: + Work in pairs 
 + Work in groups, discuss.
 + Ask and answer.
Teaching aids:
Teacher's aids: Tape cassette, pictures, poster, word cards.
Students' aids: book, notebook, workbook.
Languages focus: 
Phonics: Review the old lesson. 
Sentence patterns: review
Procedures:
Teacher' s and students' activities
Content 
Class organization.
New lesson
* Warm up: Chatting
 T asks sts to talk freely about the old lesson.
 Sts talk with their friends.
 T listens and gives feedback if necessary.
Circle the odd one out and write.
T asks sts to read these letters and predict the answers. 
T asks sts read and order ind .
T asks sts to report the answers.
Sts read again and repeat if have time..
* Answers:
1. zoo
2.playground
3.bookshop
4.street
5.ice cream shop
Complete the words.
T asks sts to look at these letters a few minutes.
T checks comprehension and elicit information in the alphabet and gives feedback.
T asks sts do ind 
Sts swap and check their answers with their friends.
T corrects.
* Answers:
1. playground
2.street
3.ice cream shop
4.bookshop.
C. Look and write.
T asks sts to observe the task, look and write.
Sts do it in pairs.
T gets sts to swap and check their answers before checking as a class.
T corrects.
T divides class into 2 groups and gets them to read aloud.
* Answers:
2.Where's the bookshop?
It's on Main street.
3.Where's the playground?
It's on King Street.
D. Trace and write.
T asks sts to observe the task, look and write.
Sts do it in pairs.
T gets sts to swap and check their answers before checking as a class.
T corrects.
T divides class into 2 groups and gets them to read aloud.
2.Where's the bookshop?
It's on King Street.
3.Where's the zoo?
It's on Oak Street.
4.Where's the playground?
It's on Water Street.
Homework
- Learn new words by heart.
- Prepare new lesson.
Experiences:
 Week: 	Date of teaching:
 Period: 	 
THEME 7
 Places and directions
Lesson 3
Objectives:
By the end of this lesson, students will be able to ask and answer about directions.
Teaching methods:
Communicative method.
Techniques: + Work in pairs 
 + ... s to talk freely about the old lesson.
 Sts talk with their friends.
 T listens and gives feedback if necessary.
A. Unscramble, write, and draw lines .
T asks sts to read these letters and predict the answers. 
T asks sts look at and complete these words 
T asks sts to report the answers.
Sts read again and repeat if have time..
* Answers:
1. reading.
2. shopping.
3. eating.
4. fishing.
B. Look at the pictures and complete the words.
T asks sts to read these sentences in a few minutes.
T checks comprehension and elicit information and gives feedback.
T asks sts do ind 
Sts swap and check their answers with their friends.
T corrects.
* Answers:
1. eating
2.fishing
3.market.
4.campsite
5.shopping
6.reading
C. Read, follow, and write.
T asks sts to observe the task, look and write.
Sts do it in pairs.
T gets sts to swap and check their answers before checking as a class.
T corrects.
T divides class into 2 groups and gets them to read aloud.
* Answers:
1. What's he doing?
He's fishing at the lake.
2.What's she doing?
She's shopping at the market.
3.What's he doing?
He's reading at the park.
D. Trace and write.
T asks sts to observe the task, look and write.
Sts do it in pairs.
T gets sts to swap and check their answers before checking as a class.
T corrects.
T divides class into 2 groups and gets them to read aloud.
* Answers:
1.What's she doing?
She's shopping at the market.
2. What's he doing?
He's fishing at the lake.
3.What's she doing?
She's eating at the campsite.
Homework
- Learn new words by heart.
- Prepare new lesson.
Experiences:
Week: 	Date of teaching: 
Period: 
THEME 7
Places and directions
 Lesson 5
Objectives:
By the end of this lesson, students will be able to suggest an activity
Teaching methods:
Communicative method.
Techniques: + Work in pairs 
 + Work in groups, discuss.
 + Ask and answer.
Teaching aids:
Teacher's aids: Tape cassette, posters.
Students' aids: book, notebook, workbook.
Languages focus: 
Vocabulary: green light, red light, hold hands, stop, go, crosswalk.
Sentence patterns: There's a crosswalk. Let's hold hand.
Procedures:
Teacher' s and students' activities
Content 
Class organization.
New lesson
* Warm up: Chatting
 T asks sts to talk freely about the old lesson.
 Sts talk with their friends.
 T listens and gives feedback if necessary.
A. New words.Listen and point and say.
T asks sts to look at the name listen, point and say them.
Sts listen and repeat words by words.
T play the record and ask sts repeat cho and ind.
Asks sts copy down.
*Vocabulary:
-green light: đèn đỏ
-red light: đèn xanh
-hold hands: nắm tay
-stop: dừng lại
-go: đi
-crosswalk: vạch trắng.
B Listening
1.Listen and put a tick and a cross in the box.
T asks sts to listen and find these charaters in the story.
T tells them that they are going to listen.
T plays the recording twice for sts to repeat.
T replays the recording for sts to find the name.
Sts say aloud these sentences individually.
Sts give comment.
Answer:
x,v
x,v
v,x
2.Useful language
T asks sts to look at the name listen, point and say them.
Sts listen and repeat the useful language.
T play the record and ask sts repeat cho and ind.
Asks sts copy down.
Useful language
There's a crosswalk.Let's hold hands.
Reading. Read and circle the correct words.
T has sts look at activity 3 and read the available sentences.
Sts say these sentences loudly in chorus.
T helps sts understand how to do the task.
T asks sts to circle the correct answer.
Sts do the task and compare the answers with their partners.
T corrects.
1.hold hands
2.Let's stop
3.green light
4.Let's go.
Speaking.Practice. Point and say.
Sts look at the task and listen to the teacher.
T guides sts the way to do the task.
T asks sts to work in pair.
T corrects.
Sts practise these sentences.
There's a bike. Let's stop.
Writing. Complete the sentences with the words in the box.
-T introduces a the model of label.
T has sts look at introduce the way to do the task in the book.
T asks sts to fill in in front of class.
T controls sts and offers help.
1.crosswalk.
2.stop
3.green light
4.hold hands.
* Consolidate the content of lesson
* Homework
- Learn new words by heart.
- Practise new strucrures.
- Prepare new lesson.
Experiences:
Week: 	Date of teaching: 
Period: 
THEME 7
Places and directions
Lesson 6
Objectives:
By the end of this lesson, students will be able to can review from lesson 1 to lesson 6
Teaching methods:
Communicative method.
Techniques: + Work in pairs 
 + Work in groups, discuss.
 + Ask and answer.
Teaching aids:
Teacher's aids: Tape cassette, posters.
Students' aids: book, notebook, workbook.
Languages focus: 
Vocabulary: review
Phonics: 
Sentence patterns: Review
Procedures:
Teacher' s and students' activities
Content 
Class organization.
New lesson
* Warm up: Chatting
 T asks sts to talk freely about the old lesson.
 Sts talk with their friends.
 T listens and gives feedback if necessary.
 Listening
Listen and draw lines.
T tells them that they are going to listen.
T plays the recording twice for sts to repeat.
T replays the recording for sts to listen and draw a lines.
Sts say aloud these sentences individually.
Sts give comment.
Answer:
Turn right
Go straight
Orange street
Turn left
Reading and writing. Look and read. Write Yes or No. 
T has sts look at activity 2 and read the available
Sts say these sentences loudly in chorus.
T helps sts understand how to do the task.
T asks sts to read and tick.
Sts do the task and compare the answers with their partners.
T corrects.
1.Yes
2.No
3.Yes
4.Yes.
Song.
Sts look at the task and listen to the teacher.
T guides sts the way to do the task.
T asks sts to listen and sing along
T corrects.
Sts practise these sentences
Page 103
Game. Play the board game.
-T introduces a the way to play the game
T has sts listen and play the game in 2 teams.
T controls sts and offers help.
Ex:
Where are you going?
I'm going to the lake.
* Consolidate the content of lesson
* Homework
- Learn new words by heart.
- Practise new strucrures.
- Prepare new lesson.
Experiences:
Week: 	Date of teaching: 
Period: 
THEME 7
Places and directions
LESSON 5: ( WORKBOOK)
Objectives:
By the end of this lesson, students will be able to 
Listen and identify specific information.
Read and identify specific information.
Read and identify general information.
Read, listen and understand a short story.
Teaching methods:
Communicative method.
Techniques: + Work in pairs 
 + Work in groups, discuss.
 + Ask and answer.
Teaching aids:
Teacher's aids: Tape cassette, pictures, poster, word cards.
Students' aids: book, notebook, workbook.
Languages focus: 
Phonics: Review the old lesson. 
Sentence patterns: review
Procedures:
Teacher' s and students' activities
Content 
Class organization.
New lesson
* Warm up: Chatting
 T asks sts to talk freely about the old lesson.
Sts talk with their friends.
T listens and gives feedback if necessary.
A. Read and circles.
T asks sts to obsreve the pictures and predict the answers. 
T asks sts read these commands in a class.
T asks sts read and circle ind .
T asks sts to report the answers.
Sts read again and repeat if have time..
* Answers:
1. green light
2.hold hands
3.go
4.red light
5.stop
6.crosswalk
B.Look at the pictures and complete the words.
T asks sts to look at the pictures a few minutes.
T checks comprehension and elicit information in the pictures and gives feedback.
T asks sts do ind 
Sts swap and check their answers with their friends.
T corrects.
* Answers:
1. green light
2. hold hands
3.red light
4.crosswalk
C. Read and put a tick.
T asks sts to observe the task, read and tick or cross 
Sts do it in pairs.
T gets sts to swap and check their answers before checking as a class.
T corrects.
T divides class into 2 groups and gets them to read aloud.
* Answers:
2. Let's go
3.Let's stop
D. Look and write.
T asks sts to observe the task, read and tick or cross 
Sts do it in pairs.
T gets sts to swap and check their answers before checking as a class.
T corrects.
T divides class into 2 groups and gets them to read aloud.
* Answers:
2. There's a red light.
Let's stop.
3.There's a crosswalk.
Let's go.
Homework
- Learn new words by heart.
- Prepare new lesson.
Experiences:
Week: 	Date of teaching: 
Period: 
THEME 7
Places and directions
LESSON 6: ( WORKBOOK)
Objectives:
By the end of this lesson, students will be able to 
Listen and identify specific information.
Read and identify specific information.
Read and identify general information.
Teaching methods:
Communicative method.
Techniques: + Work in pairs 
 + Work in groups, discuss.
 + Ask and answer.
Teaching aids:
Teacher's aids: Tape cassette, pictures, poster, word cards.
Students' aids: book, notebook, workbook.
Languages focus: 
Phonics: Review the old lesson. 
Sentence patterns: review
Procedures:
Teacher' s and students' activities
Content 
Class organization.
New lesson
* Warm up: Chatting
 T asks sts to talk freely about the old lesson.
 Sts talk with their friends.
 T listens and gives feedback if necessary.
A. Look at the pictures. Look at the letters. Write the words.
T asks sts to read these letters and predict the answers. 
T asks sts look at and complete these words 
T asks sts to report the answers.
Sts read again and repeat if have time..
* Answers:
1. bookshop
2.campsite
3.playground
4.turn left
5.supermarket.
B. Look and read. Write the answers.
T asks sts to read these sentences in a few minutes.
T checks comprehension and elicit information and gives feedback.
T asks sts do ind 
Sts swap and check their answers with their friends.
T corrects.
* Answers:
1. Where are you going?
I'm going to the sports shop.
2.Where's the bookshop?
It's on Water Street.
3.How do I get to the sports shop?
Turn right.
4.What's he doing?
He's fishing at the lake.
Homework
- Learn new words by heart.
- Prepare new lesson.
Experiences: