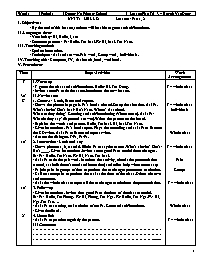 UNIT 1 HELLO Lesson 1: Part 1, 2
I. Objectives:
- By the end of this lesson, students will be able to greet and self-introduce.
II. Languages focus:
- Vocabulary: Hi, Hello, I, am
- Sentence patterns: P1: Hello. I'm Mai. P2: Hi, Mai. I'm Nam.
III. Teaching method:
- Spoken interaction.
- Techniques: Ask and answer. Pair work, Group work, Individuals.
IV. Teaching aids: Computer, TV, flashcards, book, workbook.
Week 1
Period 1
Duong No Primary School
Lesson Plan TA 3 – Huynh Van Dung
UNIT 1 HELLO 	Lesson 1: Part 1, 2
I. Objectives:
- By the end of this lesson, students will be able to greet and self-introduce. 
II. Languages focus:
- Vocabulary: Hi, Hello, I, am
- Sentence patterns: P1: Hello. I'm Mai. P2: Hi, Mai. I'm Nam.
III. Teaching method:
- Spoken interaction.
- Techniques: Ask and answer. Pair work, Group work, Individuals.
IV. Teaching aids: Computer, TV, flashcards, book, workbook.
V. Procedures:
Time
Steps/Activities
Work
Arrangement
5'
30'
8'
10'
10'
2'
I .Warm up 
- T greets the class and self-introduce. Hello/ Hi. I'm Dung.
- Invites some Ps to do the same. Introduces the new lesson.
II. New lesson: 
1. Context - Look, listen and repeat.
- Shows the picture in page 6. Ps's books closed. Set up the situation. Ask Ps. Who's she/he? She's Mai/ He's Nam. Where? At school. 
What are they doing? Greeting and self-introducing (Vietnamese). Asks Ps: What do they say? (Expected answer). Writes the pattern on the board.
- Explains the words and pattern. Hello, I'm Mai. Hi, Mai. I'm Nam. 
- Gives instructions. Ps's books open. Plays the recording and asks Ps to listen to the CD twice. Asks Ps to listen and repeat twice.
- Act out the dialogue. T-Ps, Ps-Ps.
2. Interaction - Look and say 
- Shows pictures a, b, c and d. Elicits Ps to say the names. Who's she/ he? She's/ He's____ . Gives instructions. Invites some good Ps to model the exchanges.
Ex: P1: Hello. I'm Nam. P2: Hi, Nam. I'm Mai.
- Asks Ps to do the pair work. Monitors the activity, checks the pronunciation (sound, assimilation of sound and intonation) and offers help when necessary.
- Ps join pairs in groups of four to perform the exchanges, comments each other. 
- Call on some pairs to perform the task at the front of the class. Others observe and comment.
- Asks the whole class to repeat all the exchanges to reinforce the pronunciation.
3. Follow-up
- Gives instructions. Invites four good Ps to the front of the class to model.
Ex: P1: Hello, I'm Phong. P2: Hi, Phong, I'm Nga. P2: Hello, I'm Nga. P3: Hi, Nga. I'm Tan.
- Asks Ps to stand up, make circles of ten Ps. Greet and self-introduce.
- Gives feedback. 
4. Home link
- Asks Ps to practice regularly the pattern.
III. Comments
........
T – whole class 
T – whole class 
Individuals
Whole class 
T – whole class 
Pairs
Groups
T – whole class
Whole class
T – whole class
Week 1
Period 2
Duong No Primary School
Lesson Plan TA 3 – Huynh Van Dung
UNIT 1 HELLO 	Lesson 1: Part 3, 4
I. Objectives:
- By the end of this lesson, students will be able to greet and self-introduce.
- Reinforce the lesson 1. 
II. Languages focus:
- Vocabulary: Consolidation of Hi, Hello, I, am
- Sentence patterns: Consolidation of P1: Hello. I'm Mai. P2: Hi, Mai. I'm Nam.
III. Teaching method:
- Spoken interaction.
- Techniques: Ask and answer. Pair work, Group work, Individuals.
IV. Teaching aids: Computer, TV, flashcards, book, work book.
V. Procedures:
Time
Steps/Activities
Work
Arrangement
5'
30'
3'
10'
15'
2'
I .Warm up 
- T greets the class and self-introduce. Hello/ Hi. I'm Dung.
- Invites Ps to stand up in circles, greet and self-introduce.
II. New lesson: Introduces the new lesson
1. Context 
- Shows the pictures in page 7. Elicits Ps to say the names. Who's she/ he? She's/ He's____ . 
- Gives instructions. Invites some good Ps to model the first exchange.
Ex: P1: Hello. I'm Mai. P2: Hi, Mai. I'm Nga.
- Act out the dialogue. T-Ps, Ps-Ps.
2. Interaction – Talk 
- Asks Ps to do the pair work. Monitors the activity, checks the pronunciation (sound, assimilation of sound and intonation) and offers help when necessary.
- Ps join pairs in groups of four to perform the exchanges, comments each other. 
- Call on some pairs to perform the exchanges at the front of the class. Others observe and comment.
- Asks the whole class to repeat all the exchanges to reinforce the pronunciation.
3. Follow-up: + Walk and talk
- Gives instructions. Invites four good Ps to the front of the class to model.
Ex: P1: Hello, I'm Minh. P2: Hi, Minh, I'm Na. 
- Asks Ps to stand up, walk around the class. Greet and self-introduce.
- Gives feedback.
+ Chant 
- Shows the picture in page 7. Asks Ps to say the names. He's Nam/ She's Mai
- Gives instructions. Plays the recording twice, Ps listen.
- Models the chant with claps, Ps follow.
- Asks Ps to chant in groups of 4.
- Invites some groups to perform in front of the class. Others comment.
4. Home link
- Asks Ps to practice the chant with their own names.
III. Comments
T – whole class 
T – whole class 
Whole class 
Pairs
Groups
Individuals 
T – whole class
Groups
T – whole class
Whole class
T – whole class
Week 1
Period 3
Duong No Primary School
Lesson Plan TA 3 – Huynh Van Dung
UNIT 1 HELLO 	Lesson 2: Part 1, 2
I. Objectives:
- By the end of this lesson, students will be able to pronounce the sounds /h/, /ai/, listen and understand the words, sentences of greeting and self-introducing.
II. Languages focus:
- Sounds: /h/, /ai/
- Vocabulary: Consolidation of Hi, Hello, I, am
- Sentence patterns: Consolidation of P1: Hello. I'm Mai. P2: Hi, Mai. I'm Nam.
III. Teaching method:
- Phonics - Listening
- Techniques: Chant, listen and number.
IV. Teaching aids: Computer, TV, flashcards, book, workbook.
V. Procedures:
Time
Steps/Activities
Work
Arrangement
5'
30'
10'
10'
8'
2'
I .Warm up 
- T asks Ps to stand up, chant with claps twice. 
- Invite some pairs to chant with own names.
II. New lesson: Introduces the new lesson
1. Listen and repeat 
- Shows the picture P.1 in page 8. Elicits Ps to say the names. Who's she/ he? She's/ He's____ .
- Presents and models the sounds /h/, /ai/. Ps repeat the sounds and words, class and individuals.
- Asks Ps to open books. Gives instructions. Plays the recording twice.
- Models the chant, Ps listen and repeat with claps. (Hello – clap, Hi – tap the desk).
- Asks Ps to practice P.1, page 8 in pair. Invite some pairs to perform in public. Others comment.
2. Listen and number: 
+ Pre- task 
- Shows pictures P.2, page 8. Elicits the names, Who's she/ he? She's/ He's ___.
- Asks Ps to open book. Set the task. Listen and number the pictures from 1 to 4.
+ Task cycle 
- Play the recording twice. Ps do the listening task individually.
- Asks Ps to compare the answer in pairs.
+ Language focus
- Invite Ps to give out the answer. Shows the key. Ps check the answer.
Answer: 1 – d, 2 – c, 3 – b, 4 - a
3. Reinforcement
- Shows the transcript. Asks Ps to repeat 4 sentences to reinforce pronunciation.
1. Hello. I'm Nam. 2. Hi. I'm Phong. 3. Hi. I'm Quan. 4. Hello. I'm Hoa.
4. Home link
- Asks Ps to practice the chant P.1 with their own names.
III. Comments
T – whole class 
T – whole class 
Individuals
Whole class 
Pairs
Groups
T – whole class
Pairs
Whole class
T – whole class
Week 1
Period 4
Duong No Primary School
Lesson Plan TA 3 – Huynh Van Dung
UNIT 1 HELLO 	Lesson 2: Part 3, 4
I. Objectives:
- By the end of this lesson, students will be able to read and understand 4 sentences by matching them with 4 correct pictures, and to use the learnt pattern naturally through Name Cards Game.
II. Languages focus:
- Vocabulary: girl, boy.
- Sentence patterns: The girl is ____./ The boy is ______ .
III. Teaching method:
- Reading- Game
- Techniques: Read and match, read aloud, Game.
IV. Teaching aids: Computer, TV, flashcards, book, work book.
V. Procedures:
Time
Steps/Activities
Work
Arrangement
5'
30'
14'
14'
2'
I .Warm up 
- T asks Ps to stand up, chant P.1, page 8 with claps and desk tap twice. 
- Invite some pairs to chant with own names.
II. New lesson: Introduces the new lesson
1. Read and match: 
+ Pre- task 
- Shows pictures P.3, page 9. Elicits the names, Who's she/ he? She's/ He's ___.
- Asks Ps to open the book. Set the task. Read the four sentences and match them with the correct pictures.
+ Task cycle 
- Ps read and do the task, read and match individually.
- T monitors the activity and offers help if necessary.
- Asks Ps to compare answer in pairs for correction.
+ Language focus
- Invites Ps to give out the answer. Others comment. Shows the key. Ps check the answer.
Answer: 1 – d, 2 – c, 3 – b, 4 – a.
- Asks some questions to check Ps' comprehension.
Questions: Is Nam the boy? / Is Nam the girl? – Yes. / No.
- Asks Ps to listen and read aloud the four sentences a few times to reinforce their pronunciation.
2. Follow up - Game
- Shows the picture P.4, page 9. Explain how the game is played.
- Asks Ps to get ready with a name card. Invite some good Ps to the front of the class to demonstrate the rule of the game.
- Asks Ps to play the game in group of 8. T monitors the activity and helps.
- Invite some groups to perform in front of the class. Others comment.
4. Home link
- Asks Ps to practice the chant P. 4, page 7 with their own names.
III. Comments
T – whole class 
T – whole class 
Individuals 
Pairs
T – whole class
T – whole class
Groups
T - whole class
Week 2
Period 5
Duong No Primary School
Lesson Plan TA 3 – Huynh Van Dung
UNIT 1 HELLO 	Lesson 3: Part 1, 2
I. Objectives:
- By the end of this lesson, students will be able to say good bye to their friends. 
II. Languages focus:
- Vocabulary: Bye.
- Sentence patterns: P1: Bye, Mai. P2: Bye Nam.
III. Teaching method:
- Spoken interaction.
- Techniques: Ask and answer. Pair work, Group work, Individuals.
IV. Teaching aids: Computer, TV, flashcards, book, work book.
V. Procedures:
Time
Steps/Activities
Work
Arrangement
5'
30'
8'
10'
10'
2'
I .Warm up: Game 
- T asks Ps to get ready with their name cards in hands. Make groups of ten.
- Gives instructions. Ps take turn, hold up the cards, greet and self-introduce.
II. New lesson: Introduces the new lesson.
1. Context - Look, listen and repeat.
- Shows the picture in page 10. Ps' books closed. Set up the situation. Ask Ps. Who's she/he? She's Mai/ He's Nam. Where? At school. (Expected answer)
What are they doing? Greeting and self-introducing (Vietnamese). Asks Ps: What do they say? (Expected answer). Present, writes the pattern on the board.
- Explains it. P1: Bye, Mai. P2: Bye, Nam. 
- Gives instructions. Ps' books open. Plays the recording and asks Ps to listen to the CD twice. Asks Ps to listen and repeat twice.
- Act out the dialogue. T-Ps, Ps-Ps.
2. Interaction - Look and say 
- Shows pictures a, b, c and d. Elicits Ps to say the names. Who's she/ he? She's/ He's____ . Gives instructions. Invites some good Ps to model the exchanges.
Ex: P1: Bye, Mai. P2: Bye, Nam.
- Asks Ps to do the pair work. Monitors the activity, checks the pronunciation (sound, assimilation of sound and intonation) and offers help when necessary.
- Ps join pairs in groups of four to perform the exchanges, comments each other. 
- Call on some pairs to perform the task at the front of the class. Others observe and comment.
- Asks the whole class to repeat all the exchanges to reinforce the pronunciation.
3. Follow-up
- Gives instructions. Invites two pairs of good Ps to the front of the class to model.
Ex: P1: Bye, Long. P2: Bye, Nga.
- Asks Ps to stand up, walk around and say good bye to their friends.
- Gives feedback. 
4. Home link
- Asks Ps to practice regularly the pattern.
III. Comments
T – whole class 
T – whole class 
Whole class 
Groups
T – whole class 
Pairs
Groups
T – whole class
Whole class
T – whole class
Week 2
Period 6
Duong No Primary School
Lesson Plan TA 3 – Huynh Van Dung
UNIT 1 HELLO 	Lesson 3: Part 3, 4
I. Objectives:
- By the end of this lesson, students will be able to write about greeting and self-introducing, and to use the learnt pattern naturally through the Hello Song.
II. Languages focus:
- Vocabulary: Consolidation of Hello, Hi, girl, boy.
- Sentence patterns: Consolidation of Hello/ Hi, I'm _____./ The girl is ____./ The boy is ______ .
III. Teaching method:
- Writing – Song.
- Techniques: Gap-fill, Singing. 
IV. Teaching aids: Computer, TV, flashcards, book, work book.
V. Procedures:
Time
Steps/Activities
Work
Arrangement
5'
30'
14'
14'
2'
I .Warm up 
- T asks Ps to stand up, chant P.4 - Hello, page 7 with claps and desk tap twice. 
- Invite some pairs to chant with own names.
II. New lesson: Introduces the new lesson
1. Write: + Pre- stage 
- Shows pictures P.3, page 11. Elicits the names, Who's she/ he? She's/ He's ___. Ps answer. He's/ She's ______ .
- Set the task. Complete the sentences with words in the box.
+ While-stage 
- Ps read and do the task, write the missing words in the blanks individually.
- T monitors the activity and offers help if necessary.
- Asks Ps to compare answer in pairs for correction.
+ Post-stage
- Invites Ps to give out the answer. Others comment. Shows the key. Ps check the answer.
Answer: 1. Hi, I'm. 2. boy, girl.
- Asks some questions to check Ps' comprehension.
Questions: Is Phong the boy? / Is Phong the girl? – Yes. / No.
- Asks Ps to read aloud the sentences a few times to reinforce the pronunciation.
2. Follow up - Song
- Shows the picture P.4, page 11. Elicit the names. Who's he/ she? – He's/ She's ____ . Where are they? – At school.
- Introduces the names Peter, Tom. Models a few times. Ps repeat.
- Gives instructions. Plays the recording twice. Ps look at the book, listen.
- Models the song with some actions. Ps follow a few times.
- Asks Ps to sing the song in group of 8. T monitors the activity and helps.
- Invites some groups to perform in front of the class. Others comment.
4. Home link
- Asks Ps to practice the song with their own names.
- Asks Ps to do exercises Unit 1 work book, page 4 – 7.
III. Comments
T – whole class 
T – whole class 
Individuals
Pairs 
T – whole class
T – whole class
Whole class
Groups
T – whole class