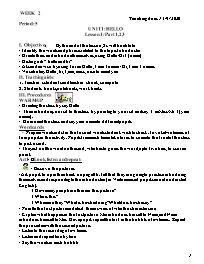 - Prepare word cards for the focused words students wish to check. Involve two teams of four pupils in the activity. Pupils from each team take turns to come to the front of the class to pick a card.
- They act out the word on the card, who has to guess the word, up to five tries, to score a point.
Act1/Look, listen and repeat:
 - Discover the pictures
-Ask pupils to open their book on page 06. Tell that they are going to practise introducing themselves and responding to the introduction (in Vietnamese if pupils cannot understand English).
+ How many people are there in this picture?
+ Who is this?
+ Where are they? What is he/she doing? What does he/she say?
- Point to the first picture and elicit the answers of who the characters are.
- Explain what happens in the first picture: Mai introduces herself to Nam, and Nam introduces himself to Mai. Have pupils repeat the text in the bubbles a few times. Repeat the procedure with the second picture.
- Listen to the recording a few times
- Listen and repeat line by line
- Say the words in each bubble
- Read each dialogue and stop at times to check pupils' comprehension. Then have them repeat each line of the dialogues
 WEEK 2 
 Teaching date: 14/ 9/ 2020
Period: 5 
UNIT 1: HELLO
Lesson 1: Part 1,2,3
I. Objectives: By the end of the lesson, Ss will be able to 
- Identify the words and phrases related to the topic Introduction
- Greet others and introduce themselves, using Hello/Hi + (name) 
- Distinguish " hello and hi"
- Aks and anwser by using form: Hello, I am + name / Hi, I am + name.
- Vocabulary: Hello, hi, I, am, miss, nice to meet you
II. Teaching aids:
1. Teacher's: student's and teacher's book, computer
2. Students': books, notebooks, workbooks.
III. Procedures:
WARM-UP 
- Greeting the class by say Hello
- Then introduce yourself to the class by pointing to yourself and say: I'm Miss/Mr +(your name).
- Go around the class and say your name to different pupils.
Word cards: 
 - Prepare word cards for the focused words students wish to check. Involve two teams of four pupils in the activity. Pupils from each team take turns to come to the front of the class to pick a card.
- They act out the word on the card, who has to guess the word, up to five tries, to score a point. 
Act1/²Look, listen and repeat: 
- Discover the pictures
-Ask pupils to open their book on page 06. Tell that they are going to practise introducing themselves and responding to the introduction (in Vietnamese if pupils cannot understand English). 
+ How many people are there in this picture?
+ Who is this?
+ Where are they? What is he/she doing? What does he/she say? 
- Point to the first picture and elicit the answers of who the characters are. 
- Explain what happens in the first picture: Mai introduces herself to Nam, and Nam introduces himself to Mai. Have pupils repeat the text in the bubbles a few times. Repeat the procedure with the second picture.
- Listen to the recording a few times 
- Listen and repeat line by line
- Say the words in each bubble
- Read each dialogue and stop at times to check pupils' comprehension. Then have them repeat each line of the dialogues 
Select some pairs to listen to and repeat the dialogue again in the front of the class. 
Act 2/Point and say.    
 -Tell pupils that they are going to practise saying Hello/Hi + (name), and responding to the greeting. Point to each character in the picture and elicit his/her name and the words to fill the gaps. Write the whole sentences on the board. Write the question and answer on the board and get pupils to repeat them a few times. Focus on pronunciation and fluency. Re-teach the prompts under Picture a, b, c, and d. Get pupils to repeat each prompt a few times.
- Model the task with the whole class. Tell the class to imagine they are the boy in the picture a and ask: Hello, I am + name) Class: Hi, I am + (name). 
- Call on a few open pairs to repeat the step with the rest of the pictures in this section.
-Pair work: Pupils talk turns to point, ask and answer question about what the characters in the pictures do at break time.
-Select a few pairs to perform the task in front of the class, using flashcards or pictures in the book, Praise if the pair has a good performance of pronunciation of pronunciation or of using new phrase.
Assessment:
SS'assessment: Listen and pay attention to their questions and answers; their voice & pronunciation; their intonation, their communication (Do they communicate or only read a question?)
T's assessment: Give oral comments (focus on their exact structure, pronunciation, interaction)
Act 3/– Let's talk:
-Ask pupils to open their book on page 06. Make sure they understand the task. Point to each picture to elicit their answers, using the guiding expressions in the Students' Book. Do the first example with the whole class in order to give them a clear idea of how the activity work.
-Point the picture and ask: Hello/Hi, I am + (name)
-Write the question and answer on the board and ask pupils to repeat these sentences a few times. Focus on pronunciation and fluency. Call on some pairs of pupils to go through the task with the rest of the pictures.
*Ss & T's asessment: give oral comments (focus on their exact structure, pronunciation, interaction)
Homelink: Write down name of the countries.
Teaching date: 15/9/2020
 Period :06 UNIT 1: HELLO
Lesson 1: Part 4,5,6
I. Objectives: By the end of the lesson, Ss will be able to 
- Revise vocabulary: Hello, hi, I, am, miss, nice to meet you
- Practise introducing themselvesand responding by using Hello/Hi + (name) 
- Improve Ss listening and writing skill
-Develop listening and speaking skills about someone's greeting through the song
 " Hello"
-Talk with their friend about greeting.
II. Teaching aids:
Audio, stickers, puppets, flashcards
III. Procedures:
WARM-UP 
	Jumble words:
 1. lolhe - 2. ma - 3. sims - 4. ih -
NEW LESSON
Act4/²Listen and tick:
 Work 1: Giving instructions
How many people are there?
What do they do .?
Listen to the tape carefully
Work 2: Listen and tick 
Play the recording twice: once for pupils to listen all the way through and once for them to do task
Work 3: Share answers	
- Replay the recording one more for pupils to check their answers.
-Ask pupils to exchange their answers with their partners before reporting them.
 Answer:	1.b	2.a	
Work 4:Listen, check the answers and give feedback	
Act 5. Let's write.
Work 1: Giving instructions
How many blanks are there?
How many words are there in the box 
Work 2: Fill the blanks 
Tell Ss read the passage and get information to write the missing words in task in the dialogue to the text.
Ss read the sentences individually and do the task. 
Work 3:Share answers	
- Call e few open pairs to read the exchanges aloud.
1. Hello, I'm
2. I'm, Hello
Work 4:Check the answers and give feedback
 Self- assessment
Act 6 . Let's sing: Hello
Work 1:Introduce the song
Work 2:Read the lyrics of the song
Work 3: Listen and repeat each sentences in chorus and in groups
Work 4: Sing the whole song and do the actions
Learn by heart the song
Teaching date: 11/9/2020
 Period :07 UNIT 1: HELLO
 Lesson 2: Part 1,2,3
I. Objectives: By the end of the lesson, Ss will be able to 
- Identify vocabulary: how, you, are, fine, thank, and, bye, goodbye
 - Ask and answer greetings by using How are you? - I'm fine, thanks. And you?
-Make questions to know about someone's routine.
-Make a survey to know about someone's health
-Express their feeling with their health
 + Develop Ss speaking and listening skills.
II. Teaching aids:
Audio, stickers, puppets, flashcards
III. Procedures:
WARM-UP:
- Spend a few minutes revising the previous lesson by calling some individuals to come to the font to greet the class and say their names. The class responds saying Hi +(his/her name), and the say goodbye to them. Get the class the Hello song.
A.PRESENTATION:
Act1/²Look, listen and repeat: 
Work 1: Discover the picture 
How many people are there in the picture? 
Who are they? 
What are they doing ?
Work 2: Listen and repeat	
T plays the recording, Ss look at book and listen the dialogue carefully
Ss listen and repeat once or twice.
Work 3:Share ideas
Elicit the new structure:	How are you?
	 I'm / I am ok /fine.
Lead in the new lesson
Act 2/Point and say.
Work 1:Look the model in the book 
Run through all the words and focus on the structure:
How are you? I'm / I am ok /fine.
Work 2 : Model
Work 3: Point and say
Practice speaking with the partner
Change another partner in groups to practice
Present in front of the class
Other Ss observe and give comments
Act 3.Let's talk
	Work 1: Ss interview each other
 T observes and offer help
Work 2: Call some pairs act out their dialogue in front of the class.
Ss comments = > T gives comments.
Q.A: How are you today?
I am fine / I am not bad ..
* APPLICATION ACTIVITY
- Talk about their friend's health.
 T gives criteria : 
Content
Pronunciation
Confidence
 Teaching date: 17/9/2020
 Period : 08 UNIT 1: HELLO
 Lesson 2: Part 4, 5, 6
I. Objectives: By the end of the lesson, Ss will be able to 
 - Revise vocabulary: how, you, are, fine, thank, and, bye, goodbye
 - Practise asking and answering by using How are you? - I'm fine, thanks. And you?
 - Express their feeling with their health
 - Make a survey to know about someone's health
 - Develop Ss writing and listening skills.
II. Teaching aids:
Audio, stickers, puppets, flashcards
III. Procedures:
*Warm up:
 What and where 
4.Good bye
3.Thank you
2.fine
1.bye
Act 4: Listen and number.	
Work 1: Identify the character 	
Work 2: Listen and number 
-T plays the recording twice and Ss listen to do the task
Work 3: Share answers
- Play the recording one more for pupils to check their answers.
-Ask pupils to exchange their answers with their partners before reporting them.
Work 4: Listen, check the answers and give feedback
Answer: a.4	b.3	 c.2 	d.1
 Act 5/: Read and complete:
Work 1: Giving instructions
How many blanks are there?
How many words are there in the box ?
Work 2: Read and complete 
T asks Ss to fill the blanks in 3 dialogues
Work 3: Share answers
Work 4: Check the answers and give feedback	
Answers: 	1. Goodbye	2. Bye 3. Fine	 4. Thank you
 Self- assessment
.
Act 6/Let's write:
Work 1: Identify the picture
How many blanks are there?
How many words are there in the box ?
Work 2: Individual work
* T and Ss assessment: give feedback. 
Key: 1. how 2. Fine, thank
 * Application activity: 
Missing words
 A: Good morning, Nam. How ?
B: Good , I'mthanks.
 And..?
 A: 
TT DUYỆT GIÁO VIÊN SOẠN
 Phan Thị Báu Phạm Thị Kim Dung
WEEK 3
Teaching date: 21/9/2020
 Period :09 UNIT 1: HELLO
 Lesson 3: Part 1,2,3
I. Objectives: - By the end of the lesson Ps will be able to: 
- Say goodbye, using Goodbye/Bye!
- Revise vocabulary: hello, hi, i, am, how are you, fine, thank you
- Revise sentence Patterns: hello/hi, I am +(name) How are you?
 I'm fine, thanks. And you? Bye, goodbye
- Distinguish the sounds of the letters /b/, /h/ in the words bye and hello respectively .
- Develop Ss writing and listening skills
II. Teaching aids:
Audio, stickers, puppets, flashcards
III. Procedures:
* Warm up:
Missing word
 ... pic Activities
 - Distinguish pronounce the sounds of the letters /bl/, /sk/ in the words blind and skating respectively 
 - Develop Ss writing and listening skills
II. Teaching aids:
Audio, stickers, puppets, flashcards
III. Procedures:
*WARM-UP
 - What and where
	** Assessement: 
- Ss's vocabulary about activities: you remember some activities.
 - Ss's saying: you write words exactly
*NEW LESSON:
Act. 1: Listen and repeat: 
Work 1: Introduce
-Teacher teaches Ss to spell some specific names and old phonics.
-Teacher guide pupils to pronoun the correct phonics: 
Bl blind	 Do you like blind man's bluff?
Sk skating I like skating.
Work 2: Listen and repeat
 - Listen and follow in their book. Focus on Ps' attention on the first sound
 - Listen again and repeat all the words and sentences twice
Work 3: Practise pronouncing
- Some ss act out in class, others observe and give comments
Act. 2: Listen and write:
Work 1 - Read the sentences and guess the correct answer
 - Listen to the recording 2 times and do the task 
Work 2 -Leaders hold group compare the answer 
Work 3 - Check the answer in class, give comments and correct
Key:	 1. I don't like chess. I like blind man's bluff.
	2. They like skating.
Act 3: Let's chant: "what do you do at break time?"
Work 1: - Introduce the chant
Work 2: - Read each line of the chant
Work 3: - Listen to the chant a few times and do choral and individual repetition line by line
Work 4 - Chant in class, others sing along and clap hand
Work 5: - Chant again and claps their hand a few times
** Assessement: 
- Ss's vocabulary about colors: you remeber the colors.
- Ss's structure: you can use the question "....." exactly
- Ss's chant: you chant beautifully/well/wonderfully......
TT DUYỆT GIÁO VIÊN SOẠN
Phan Thị Báu Phạm Thị Kim Dung
WEEK 17 
 Teaching date: 16/12/2019
Period 65 UNIT 10: WHAT DO YOU DO AT BREAKTIME? 
 Lesson 3: Part 4,5,6
I.Objectives: By the end of this unit, pupils will be able to
- Use the words and phrases related to the topic Activities
 - Revise vocabulary: badminton, volleyball, table tennis, hide and seek, blind man's bluff, skipping.
- Revise sentence Patterns: What do you do at break time?
 I play football.
- Play game bingo.
 - Develop Ss writing and reading skills
II. Teaching aids:
Audio, stickers, puppets, flashcards
III. Procedures:
*WARM-UP
 Read the chant " what do you do at break time ?"and do action in front of the class.
 ** T gives criteria: 
	+ Rhythm/ word
	+ content
	+ Pronunciation
*NEW LESSON:
Act. 4: Read and match:
Work 1: T gives instructions:Look at the sentences and match:
How many numbers/ letters s are are there ?
Work 2: - read the sentences and match
Work 3: Compare the answer 
Work 4: -Read their answers aloud, give comments and correct
- Call on some Ss report their answers. The rest of class listen and give comments.
- Have the whole class read each sentences in chorus to reinforce their pronoun
Answers: 1. b	2. c	 3. a	4. d
Act. 5: Write about you
Work 1 - Read and complete the sentences, using information
Elicit to find out the answer
Work 2 Compare the answer
Answers: : 
Hi, My name is Lan. I like skipping. 
At break time , I play chess. 
 Work 3 
 - Read their text aloud, give comments and correct
- Call on some pupils to report their answers to the class, give comments and correct
Act 6: Project
Work 1	- asks Ss to work in individual
Work 2: - gets them to guess and write words in their notebooks 
Work 3: - Teacher reads and student ticks and says a " Bingo" 
Bingo
 Teaching date: 17/12/2019
Period 66 REVIEW 2 (T1)
I.Objectives:By the end of the lesson, Ss will be able to 
- Practise listening skill by listening, ticking and numbering the pictures. Practise reading skill by reading, completing the passage and matching the suitable sentences.
- Practise speaking skill by looking at the pictures and saying together
- Revise all lessons, do exercise.
- Develop skills: speaking, listening, writing, reading.
 Vocabulary:
- Phonics: Come, down, gym, look, ruler, these , it, orange, blind, skating.
II. Teaching aids:
Audio, stickers, puppets, flashcards
III. Procedures:
* Warm up: - Play the game: Simon said: Please:
 - Giving some commands. If before the commands having the word "Please", Ss will do following. If don't have the word "Please", Ss stay silently, if any Ss still do, Ss will be lose. At the end of the game, all losers will be punished.
 + listen the rule and practice.	
T ask Simon said : Please! Stand up!
Ss: Stand up.
T ask Simon said: Sit down!
Ss: Silent..
*NEW LESSON:
Act1. Listen and tick.
Step 1: Discuss about ten pictures.
 Step 2: Ask students listen and tick the correct pictures.
Step 3: Share and answer the teacher's questions.
 Keys: 1. a	2. b	
	 3. a	4. b	5. b	
Act2. Listen and number. 
Step1: Students look at the pictures in the book, identify the members in each pictures.
Step 2: Listen and number the order.
Step 3: Share the anwers. 
Answers:	1. c	2. d	3. a	4. D
Act3. Read and complete. 
 Step 1: Read the words provided.
Step 2: Complete the passage.
Step 3: Share in groups and read aloud.
Answers: 1. school 	2. playground. 3. room 	4. Quan
Act4.Read and match: 
Step 1: read the sentences to get the information in order to match the sentences a to e to complete the dialogues.
Step 2: Complete the passage.
Step 3: Share in groups and read aloud
Answers: 1. e	2. c	 3. a	4. b	5. D
Act5.Look and say 
Step 1: identify the characters in the pictures
Step 2: call on a pair and ask them to pretend to two characters to act out the questions exchange.
Step 3: Share in groups and read aloud
 Teaching date: 19/12/2019
Period 67 REVIEW 2 (T2)
I.Objectives: By the end of the lesson, Ss will be able to 
- Practise listening skill by listening, ticking and numbering the pictures. Practise reading skill by reading, completing the passage and matching the suitable sentences.
- Practise speaking skill by looking at the pictures and saying together
- Revise all lessons, do exercise.
- Develop skills: speaking, listening, writing, reading.
II.Teaching aids:
Audio, stickers, puppets, flashcards
III. Procedures: Do exercises
I . Make questions for these answers:
1 ..
My name is Huong.
2. ..
It is Nguyen Du primary school.
3. ..
Her name is Trang.
4. ..
She is my mother.
5...
No. My pencil is small.
6. ..
I'm fine , thank you.
7. ..
This is my father.
8. ..
His name is Huy.
9. ..
Yes, my house is very nice.
10. ..
yes, that is my new school library.
II. Write T (true) into the right sentence and F (false) into the wrong sentence 
1.a.My name is Hoa.
 b. My names is Hoa.
2.a.It name is Quang Trung primary school.
 b. Its name is Quang Trung primary school.
3.a.That is my friend new.
 b. That is my new friend.
4.a.Who is she? - She is Mai.
 b. Who she is? - She is Mai.
5.a.May I go out? _sure.
 b. May I go in? _sure.
6.a.What is she name?
 b. What is her name?
7.a.I'm fine ,thank you.
 b. I'm fine. Thanks you very much.
8. a. He is my friend, Nguyet. 
 b. She is my friend, Nguyet.
9.a. Sit down ,please.
 b. stand down, please.
10.a. Nice to met you , Thanh.
 b. Nice to see you , Thanh.
III. Reorder these words into the correct sentence:
1.name / Phuong / My / is. 
2.is / Who / that/ ? 
3.are / How / you? 
4.come / May / I / in? 
5.meet / you / Nice / to /. 
6.your / What / name / is / ? 
7.my / This/ friend / is / new. 
8.school / Is / small/ your/ bag? 
9.please/ ,/ your /close / book/ 
10.name / Her / / Mary/ is . 
11.his / What / name / is ? 
12.am / fine / you /, / I/ thank. 
13.school / big / nice / Her / is / and. 
14.go / May / out / I /? 
15.she / Who / is / ? 
 Teaching date: 20/12/2019
Period 68 SHORT STORY
CAT AND MOUSE 2
I. Objectives
- By the end of this unit, pupils can read, listen and understand a short story.
- Pupils can develop listening, speaking, reading and writing skills.
II.Teaching aids: 
Audio, stickers, puppets, flashcards
III. Procedure
* Warm up: - Teacher and Ss greet together.	
 - Sing a song
 *NEW LESSON:
1. Fill the gaps. Then listen and check.
 Work 1: Read the story silently.
 Work 2: Listen to the story	
Work3: Roleplay to read the story.
 Key: 2. Hello 3. Meet you 4.your / yes 5. chair 
2. Ask and answwer the question.
 Work 1: Read the open conversation.
 Work 2: Complete the conversation 
 Work 3: Roleplay to read.
Key: 
1. Her's white 2. No, he isn't. He's black./he's a black cat	 3. Maurice is red	4. It's big./ It's a big huose
3. Number the sentence. Then act out in pairs. 
 Work 1: Make a similar conversation 
Work 2: Work in pair. Read the conversation aloud.
Work 3: Give feedback.
Key: 
1. Miu 	 2.Chit	 3 Maurice 4. Chit 5.Maurice 6. Chit 7.Maurice
4.Put the works in the correct order:
Work 1: Read the sentences and complete
Work 2: Share answers with their parners. 
 Work 3: Give feedback.
Answers: 1. Is that your chair?
 2. Do you like hide-and-seek?
 3. Pleased to meet you too
 4. Let's play hide-and seek
 5. Is this your house?
 B. Application activity:
- Practise your conversation with your friends.
** Criteria for Ss'assessment :
Excellent
Good
Ok
Design
Spelling
Presentation
 TT DUYỆT GIÁO VIÊN SOẠN
Phan Thị Báu Phạm Thị Kim Dung
WEEK 18 – PERIOD 69
THE FIRST SEMESTER ENGLISH TEST 
I. Objectives:
1. Knowledge: By the end of the lesson Ps will be able to:
- Review their abilities in listening, speaking and writing related to the topics from units 1-5, using the phonics, vocabulary and sentence patterns they have learnt.
2. Skills: 
- Develop Ss reading, listening and writing skills.
III. Teaching processes:
1. Class organization:	
- Greeting
- Checking for the students' attendance.
2. Oral test: (ĐỀ KIỂM TRA PHÒNG GD-ĐT THỊ XÃ RA)
PERIOD 70
CORRECTION OF THE FIRST TERM TEST
I. Aim: By the end of the lesson Ps will be able to realize their mistakes to draw lesson for themseves.
II. Teaching processes:
1. Class organization:	
- Greeting.
- Checking for the students' attendance.
PERIOD 71	 SƠ KẾT HỌC KÌ 1
PERIOD 72